Trust In the Best Rapid Mixer Granulator Manufacturer and Supplier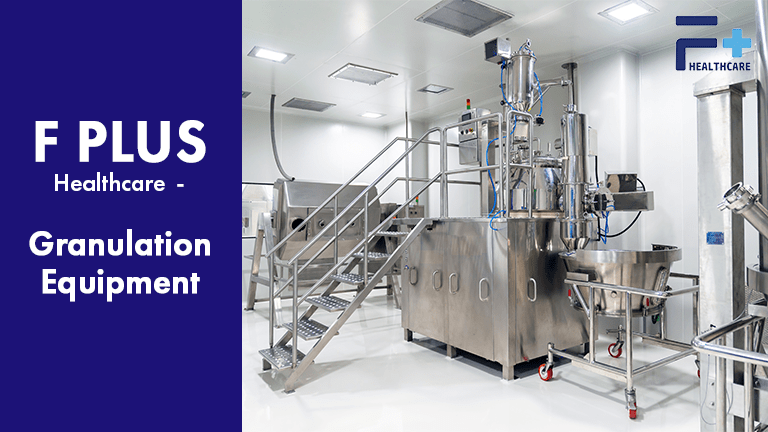 Do you know what granulation is? It is the process which allows breaking of large size granules to small ones. But does this process happen manually, or are there any other machines involved in the process? To answer your question, we are here at F Plus Healthcare Technologies LLP, and we can say that we manufacture Rapid Mixer Granulators also called High shear granulators of various sizes and capacities. We are one of the best granulation equipment manufacturers. We manufacture Rapid Mixer Granulators right from lab model to pilot scale to commercial production size.
When it comes to a granulator machine for pharmaceuticals, we have an inhouse team of design and fabrication. This ensures complete quality control and ensures meeting the deadlines.
Get in touch with us at the earliest so that we can help you set up the entire proforma. After all, F Plus Healthcare Technologies LLP gets you the best, indeed.
Unique Features of the Granulator Machines
What is so special about the granulator machine that makes us different from the rest? It is precisely what we will talk about so that you can understand before investing in such a helpful machine.
Produces Fine and Uniform Granules
As a pharmaceutical-based company, the first thing that you need to look upon is to make sure that you have the finest granules at your disposal. We equip our granulation machine with a system that will allow you to produce the most acceptable and uniform granules without compromising on uniformity. We understand that for many industries, this is one of the primary aspects, and often they are disappointed because of the deformity in the granules.
Not only that, sometimes Pharma-based companies have a specification for uniform granule production, and this is because it gets much easier to consume the granules. Hence, in such cases, if the granules are not consistent, it can add to the customers' discomfort levels, which one does not desire at all.
Helps You Save A Lot of Time
When starting with production, it is essential to make sure that you make good use of time and enhance your productivity as much as possible. However, you will only be able to improve productivity if the machine that you are using is time efficient. Hence, we have built the most comprehensive granulator machine, ensuring you can save time and produce a considerable quantity in one go.
Because you get to save a lot of time and produce a lot of granules in one go, this will enhance the efficiency of your brand. Also, efficiency will consistently build excellent credibility in front of the market, and you will be able to create an identity for yourself.
And finally, as an industry, it is essential to make sure that you can take care of other resources. In simple words, this refers to the manual input you need to put in and allocate for better reference. The machine we have designed does not invite any manual information; even if required, it is minimal.
Not only does it allow you to allocate the resources in some other place, but at the same time, it also ensures that you can maintain hygiene factors.
Summary
When it comes to high shear granulator manufacturers in India, we at F Plus Healthcare Technologies LLP always take precedence. For us, taking the client's requirements under special consideration is very important, which will allow us to reach the masses.